Dolphins on the Silver Coast Portugal
We took a walk on the beach at Bom Sucesso today and down to the
opening of the Obidos Lagoon. It's a pity I didn't bring the
camera as the dolphins were both the most numerous and the
closest to the shore I've seen. (the picture I've included here
is a Bottlenose courtesy of NASA)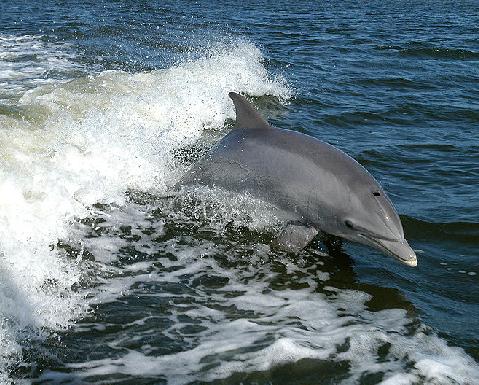 We've seen dolphins off the coast at Foz do Arelho before, but
on this occasion there were at least fifteen clearly visible
from the beach. Both Common Bottlenose and Short-beaked
Common Dolphins are found in our waters.
Regular boat trips are organised to the Berlengas from Peniche
and in recent years dolphin trips have been going out from
Nazare. For a few selected videos of the local dolphins seen by
others at Nazare, Peniche and the Berlengas islands, see below....
There are numerous local videos shot by amateurs from their own
boats which you can find at YouTube, I've only selected a few
which look a lot like the dolphins we saw today. If you only see
repeats of the NASA dolphin picture and no video play button
you'll need to enable your system for flash video.
We took our walk at around 2.30 in the afternoon with the tide
coming in and about halfway between low tide and high tide.
Whether that is a typical time for feeding I have no idea.
Looking from the beach out towards the Berlengas we could see
more dolphins than we could count circling around the
fishermen's buoys.
Of course this is not going to match seeing those famous
bottlenose dolphins working with fisherman in the waters off
Laguna in Brazil, but seeing such a large pod from the shore
clearly circling and herding a school of fish was a real treat
for us. It looked to us as though they were herding their prey
around and into the fishing nets which had been put out earlier
by the boats which come out from Peniche to where the fishing boats
regularly suspend their nets from buoys just off-shore.

It took around 30 minutes for the dolphins to have their fill of
fish, presumably, before they disappeared. Hopefully I'll have
my camera with me next time.
Hope you enjoyed the amateur videos above.
This last one is from Nazare TV...