Vimeiro Golf Course - Silver Coast
Praia do Porto Novo - Vimeiro - Torres Vedras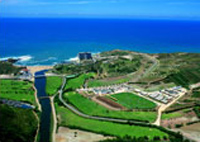 Opened in 1962 the Vimeiro Golf is 62km from Lisbon and only 50 metres from the beach. The Vimeiro Golf has a golf- course, a golf academy and a welcoming club house with reception and a Shop.
Benefiting from a microclimate, it permits the practise of this sport all year. The Vimeiro golf offers a pleasant and relaxing golf challenge to everyone who seeks it.
Well known for its excellent conditions and 9 holes, the Vimeiro Golf Course was built on the bank of the Alcabrichel River and right next to the sea.