Quintas de Obidos - Silver Coast, Portugal
Located on Portugal's Silver Coast, 80km from Lisbon, Quintas de
Óbidos is a new and exclusive development incorporating 79
luxurious villas each within private grounds. The resort plan
was conceived by WATG (Wimberly, Allison, Tong and Goo), and
sets very high standards of quality and luxury.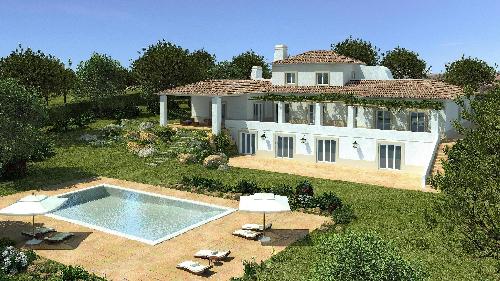 There are 16 styles of villa, each set in approx. 1.3 acres
(5,200 m2) of private gardens and grounds, planted with olive
trees, Jacarandas and pine trees. The villas are designed to
reflect their Portuguese heritage, and each incorporates an
average of 8,500 sq ft (800 m2) of living space.
The exceptional facilities will include an Equestrian Centre
designed by the world's number one lady show jumper, Jessica
Kürten, as well as an exclusive Country Club with a wide range
of amenities, including a restaurant and spa, two swimming
pools, two tennis courts, a sports pitch and a children's play
area.
The championship golf course at Bom Sucesso designed by Donald
Steel is situated just a few hundred yards from the entrance of
the resort where residents will receive special conditions for
membership, green fees and buggy rental.
For further information, you can visit www.qdo.pt but a browser
plug-in (not recommended) is currently needed.
If, like me, you are a stickler for internet security and will
not enter a web site that only has Flash executable content, you
will not be able to the view the official information on the web
about Quintas de Óbidos. In which case the information below
edited by me but based upon details sent to me by Foundation PR
Ltd will hopefully be of help.
Quintas de Óbidos, Portugal
Development Information
Quintas de Óbidos has been carefully planned so that it has
minimal impact on the environment, integrating with the glorious
surrounding nature. A series of fresh water lakes are being
incorporated within the landscape to provide natural wildlife
habitats. The development will also benefit from extensive
walkways which snake around the borders of the lakes.
Quintas de Óbidos is situated close to the Óbidos Lagoon, one of
the most desirable locations of the Silver Coast, a short
distance from the medieval town of Óbidos.

© 2008 Google - Imagery © 2008 Digital Globe, Cnes/Spot Image, -
Map data © 2008 Tele Atlas AND - Terms of Use

The region offers unique character which is rich in culture and natural
beauty, with good access to Lisbon which can be reached in less than
an hour. Furthermore, property prices around Óbidos are
significantly lower than in the Algarve.
Quintas de Óbidos
Quintas de Óbidos villa prices range from EUR1.4 to EUR1.8 million.
The telephone number including the international dialling code
for Portugal is: +351 226061540
Development facts and figures:-
Site area: 57.6 ha (142.3 acres)
Plots / villas. Each plot has an average of 5,260 m2 (1.3 acres)
The villas are designed by four renowned Portuguese architects:
Castello Branco, Guedes Amorim, Ginestal Machado and Miguel
Saraiva
Each Villa has 425 m2 (4,500 sq ft) above the ground and an
average of 370 m2 (4,000 sq ft) in a lower ground floor.
Prices include swimming pool, landscaped gardens and grounds.

Facilities will include:-
An equestrian Centre designed by international show jumper,
Jessica Kürten, including international competition standard
show jumping and dressage arenas, indoor school, extensive
grassed paddocks, competition stabling and top-quality
facilities
A country Club equipped with spa, two swimming pools (1 heated),
restaurant, coffee shop and living areas, two tennis courts and
a sports field
A Five star hotel incorporating 80 suites
A Commercial area, Reception area and Helipad.
The nearby 18-hole Championship Golf Course designed by Donald
Steel offers special conditions for membership, green-fees and
buggy renting.
Additional services will include:- 24 hour surveillance, baby-
sitting, house keeping, catering and gardening.