Ecological Park - a new road to Bom Sucesso
Ecological Park creates shorter route to Bom Sucesso
The "Parque Ecológico" is still under development, but locals
who travel regularly out to the Bom Sucesso golf course and
property resort are now using a newly built road. The road
through the forthcoming Ecological Park has not been officially
opened, and is not signposted at all so it's unlikely to be used
by many on the Silver Coast until it is.
Road opening is always popular, and 2009 is an election year,
but as yet I've not seen any reports of the road in the local
papers. Nevertheless the road is already being used as a short-
cut to both Obidos and Caldas da Rainha. I've no doubt the road
will be busy this coming summer as a short-cut through to the
beach.
Most of these minor roads never find their way onto the maps. so
here is a guide for the adventurous. From Caldas you need to
find your way from the unfinished part of the ring road near the
E LeClerc hypermarket in Santo Onofre, through Bairro, Santa
Maria and out to Arelho where you will turn right onto the road
from Obidos.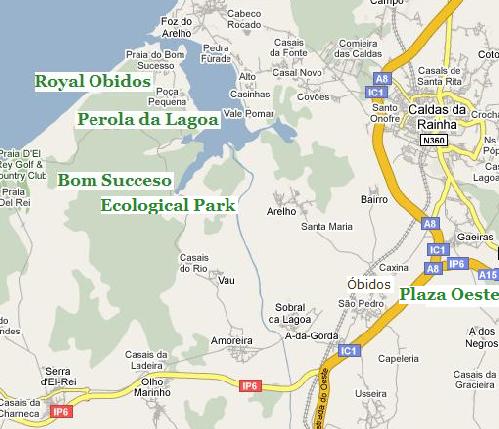 From Obidos the short-cut route is much easier to find, down
beside the river, past the railway station, bear left after
going over the railway lines, straight on passing through Arelho
and bear left and right around the airfield. Over the small
bridge over the river and turn right towards the new cycle path,
then follow the new road round to the left and up through the
forest.
At the end of the new road, you emerge having by-passed Vau
altogether, now turn right and drop down to the lagoon where you
will be at the back/current entrance to Bom Sucesso Design
Resort. Carry on if you want to get to the other golf course
developments of Perola da Lagoa, Royal Obidos, Falesia d'El Rey,
or the many beaches from Praia do Bom Sucesso through to Praia
D'el Rey.
The golf resort at Praia D'el Rey has always used it's back
entrance at "Praia Del Rei" as it's main entrance and will
continue doing so until the promised IP6 link road from Serra
d'El-Rei out to the future front entrances of both Bom Sucesso
and Praia D'el Rey is built. The link road will then be
strategically placed between the two resorts.
For now, it seems to me when driving it, that the Bom Sucesso
Design Resort has now got the shortest and prettiest route
to/from Obidos and the A8/A15 interchange.
---
---