Property exchanges Silver Coast Portugal / UK and elsewhere.
Property on the Silver Coast in exchange for property in other countries.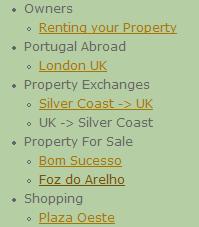 If you have property in another country that you wish to exchange for property on the Silver Coast in Portugal, I've created a section on the Portugal Silver Coast Property blog entitled "Property Exchanges" (see list of categories).
I'll be dividing it into sub sections as folk send offers for listing here. I have already created the "Silver Coast -> UK" section for Silver Coast property offered in exchange for homes in the UK.
The section entitled "UK -> Silver Coast" is currently empty, but is designed for folk moving from the UK to the Silver Coast, Portugal. Perhaps you would like to be the first to list your UK property there?
Continue reading "Property exchanges Silver Coast Portugal / UK and elsewhere." »