Property exchanges Silver Coast Portugal / UK and elsewhere.
Property on the Silver Coast in exchange for property in other countries.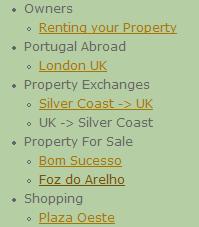 If you have property in another country that you wish to exchange for property on the Silver Coast in Portugal, I've created a section on the Portugal Silver Coast Property blog entitled "Property Exchanges" (see list of categories).
I'll be dividing it into sub sections as folk send offers for listing here. I have already created the "Silver Coast -> UK" section for Silver Coast property offered in exchange for homes in the UK.
The section entitled "UK -> Silver Coast" is currently empty, but is designed for folk moving from the UK to the Silver Coast, Portugal. Perhaps you would like to be the first to list your UK property there?
I've created those two sections to show how the idea will work. Equally of course you may have a property in another country anywhere in the world that you want to exchange for one on the Silver Coast, or vice versa. I'll create a new section whenever needed for such property offers that are posted here.
Contact me via the Email link at the top of the blog to list your property for exchange, and/or post a web link (URL) to your existing property sale or exchange advert if like most folk you already have one elsewhere on the web.


If you don't already have an advert on the web, you can place free classified ads on many web sites. This may be useful if you have property you want to sell at home before you invest in Portugal.

A good place to start advertising is u4it.com and there you can place an advert with pictures completely free of charge in return for a link to u4it.com. If you don't already have your own web site to make the link, then u4it.com will create a professional web advert for less than the price of a meal out.
---
---