The Monastery of Batalha - a Silver Coast place to visit
Batalha:- The town grew up around the Dominican monastery of Santa Maria da Vitória, of Batalha. The monastery was built to fulfil a promise made by King D. João I of Portugal who had prayed for victory over the Castillians at the Battle of Aljubarrota (August 14, 1385) which ended the crisis of 1383-1385.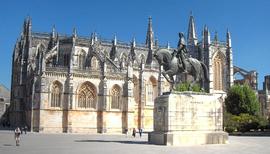 The Monastery of Batalha is a majestic building classified as world heritage by UNESCO it has flamboyant Gothic architecture, intermingled with Manueline style. It is one of the best and original examples of such architecture in Portugal. It amazes the onlooker with its profusion of gables, spires, pinnacles and buttresses.
Lateral view. Monastery of Batalha. (image derived from original by Georges Jansoone)
Continue reading "The Monastery of Batalha - a Silver Coast place to visit" »