Golden Eagle, Quinta do Brincal - Silver Coast
Golden Eagle Golf Resort, Quinta do Brincal,
E.N. 1, Km 63/64, Asseiceira, 2040-481 Rio Maior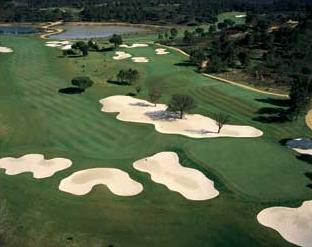 Located near Rio Maior, about 60 kilometers north of Lisbon,
Golden Eagle Golf resort, was opened in 1994 but restricted to
members and their guests. Since August 1997 it has been open to
visitors.
The project has plans for two hotels, a congress centre and real
estate/properties. They don't seem to be selling property on the
Silver Coast very effectively as their web site doesn't work at
all unless you run the insecure flash technology.

Rio Maior being around twenty miles inland doesn't represent
a great "coastal" investment anyway, but property away
from the coast is a lot less expensive and there are many
Rio Maior estate agents selling property near the
Golden Eagle Golf resort.

If you plan to play the Golden Eagle course I would recommend
staying at the nearby coastal golf resort - see Praia D'el Rey
Villa Rental. But if you prefer to stay nearer to Golden Eagle
Golf resort there are a variety of Rio Maior Hotels to choose
from.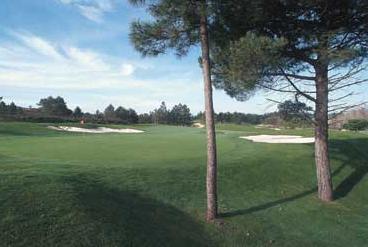 However, for golfers it is a jewel, and in 1996 it was deemed
best course of the year by the Portuguese Golf Federation. With
a typical modern north-American school design, laid out by the
renowned architect Rocky Rockmore, the 18 hole course flows over
ninety hectares. The course is surrounded by countryside and
with it's eight lakes, pine trees and mimosa it is a beautiful
setting.
The course has a length of 6.612 meters for a par of 72 with 87
bunkers. Services and facilities include a pro-shop, bar, and a
balcony with a magnificent view over the course and the driving
range. Also a short game area and putting greens.
Villa Apartment Rental with Pool and Tennis - Silver Coast.

---
---