Royal Obidos to start in the "coming days".
Royal Óbidos is a tourist venture which will offer "fractional ownership", located on 136 hectares between Praia D'el Rey and Bom Sucesso Beach on the Lagoa de Óbidos. It will "start" (arrancar), in the "coming days" according to a rather vague report in the Gazeta das Caldas two weeks ago. You can also see the report on the web site of the Municipality of Óbidos.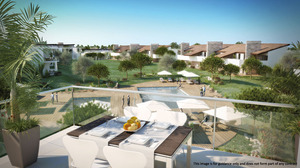 It is not stated in the article, but by "start" they presumably mean construction, because the sales office is already in place and they "started" a while ago. Arrancar is a verb which also means extract, uproot, pull out, and as I reported here in October 2008, the site clearance and uprooting of the eucalyptus trees was underway at that time. So, by my reckoning, the project "started" about a year ago.
Royal Óbidos is a joint venture between the Oceânico Group and MSF TUR.IM. By fractional ownership, they mean that Oceânico Prestige Residence Club will offer eighth share ownership with flexible usage of any property within the worldwide portfolio, currently this will include the "Vilamoura Golf and Garden Resort" in the Algarve and the "Little River Golf and Resort" in the USA if you buy your fraction at the Royal Óbidos Spa & Golf Resort.

Oceânico Developments, established in 2000, initially developed resorts in the Algarve at Lagos and Praia da Luz and then moved into the development of golf resorts in Silves and Vilamoura in the Algarve and now Óbidos on the Silver Coast. In December 2007 Oceânico acquired Little River Golf & Resort in North Carolina, USA. Oceânico Group is owned by Gerry Fagan and Simon Burgess who moved to Portugal in 1999. Simon Burgess is a quantity surveyor with his own UK development company. Gerry Fagan worked for Ireland's Campbell Bewley Group for over 25 years.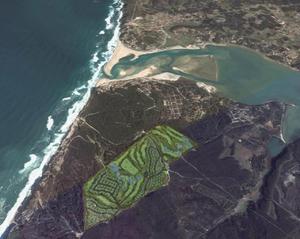 MSF TUR.IM is a holding company that manages the real estate and tourism ventures of the MSF Group. MSF TUR.IM is 87.5% owned by MSF SGPS SA who have been involved in civil engineering in Portugal for 35 years. The MSF Group, has activities in Portugal, Angola, Bulgaria, Cape Verde, Ghana, Equatorial Guinea, Poland and Senegal. The group is involved in real estate and tourism, construction and public works, concessions, investment, consulting, and information technology.
MSF TUR.IM (formed in 2005) holds totally the companies Jardim da Bagatela - Empreendimentos Imobiliários, S.A., Ceramitur - Sociedade Turística da Fábrica da Cerâmica, S.A. and Marlagos - Iniciativas Turísticas, S.A. It also holds 50% of Royal Óbidos - Promoção e Gestão Imobiliária e Turística S.A., 50% of Royal Luxury Évora Resort - Promoção e Desenvolvimento de Investimentos Imobiliários e Turísticos, S. A. and 49,9% of MSF/LENA - Investimentos nos Balcãs, SGPS, S.A. (of which 0,01% is held by MSF, SGPS, S.A).
The Royal Óbidos development is located overlooking the ocean just a short drive from the medieval town of Óbidos and will comprise a mix of two & three bedroom apartments, three & four bedroom villas and a five star condominium hotel & spa. The championship golf course has been designed by Severiano Ballesteros and facilities include restaurants, bars, gymnasium, spa, golf clubhouse, tennis courts, outdoor swimming pool, children's playground and convenience store.
Royal Óbidos has a cost of 200 million euros and will create 160 jobs when operational. The architecture is characterized by the use of natural materials, such as wood and stone. The apartments and houses set in an 18 hole golf course will be between streams, bridges, water decorations, patios, bike paths, sculptured gardens and green spaces.
See update:- Royal Óbidos after MSF takeover is now opening May 2012.
---
---