Portugal property market is picking up - golden opportunity
The golden visa opportunity which I mentioned in my recent article of May 5th entitled "Portugal gives gold visas to non-Europeans who buy houses" seems to have come to the attention of the UK media.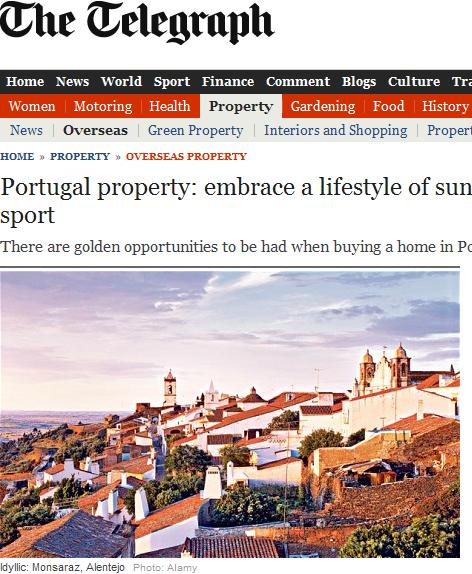 I noticed the recent article pictured above in the Telegraph on the 17th June with an appropriate byline/sub-header, "golden opportunities to be had when buying a home in Portugal".
The article by Jake Wallis Simons is very positive about the property market in Portugal, as well as drawing attention to the obvious benefits of our calmer lifestyle and friendly folk, the spectacular beaches, excellent food and wine, golf, watersports and pleasing climate.

Jake Wallis Simons writes in the Telegraph that:-
Post crisis "the economy has stabilised" and that "house prices are much lower than they were before. This means good deals for British buyers. Moreover, the Portuguese government is taking steps to attract investment from overseas. These include reducing tax for expatriates from 48 to 20 per cent, offering a "golden visa" - which converts to citizenship - to people buying properties worth EUR500,000 (£425,000) or more, and abolishing tax for retirees altogether."
The Telegraph article also quotes Álvaro Santos Pereira, Portugal's Minister for the Economy and Employment as saying:-
"In the last budget we reformed the tax system to make it very advantageous for expatriates. We are taking steps to streamline the level of bureaucracy, and our banks will happily lend at reasonable rates to people with a downpayment of 20 to 30 per cent."
David Rowat, director of operations for Portugal Property, one of the larger real estate companies in Portugal is quoted as saying that the property market is picking up, with dramatic improvements in the last two years:-
"In 2011, we sold 12 properties," he says. "In 2012 we sold 53. So far in 2013, we are averaging two a week."
The article also notes that in the Silver Coast there are some good bargains to be had in this region with lower prices. But an upward movement for prices in the Lisbon region since the "golden visa" legislation was introduced suggests that a good time to buy is now before the price impact spreads to other areas.
Lisbon, Cascais and Estoril are reported as seeing an influx of wealthy Eastern Europeans, Russians and Chinese keen to get a European passport and prices are gravitating upwards to the EUR500,000 mark needed to secure a golden visa.
Read the full Telegraph article at:-
telegraph.co.uk - Portugal property embrace a lifestyle of sun sea and sport
---
---